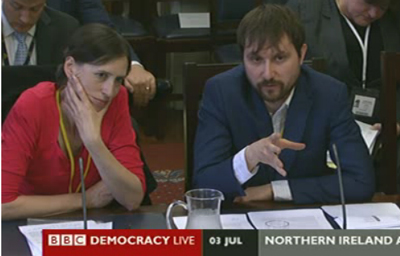 Mike Harris, head of advocacy with Index on Censorship wrote a article, 'Stormont must give us a libel law fit for modern age,' in the Belfast Telegraph and on the Index website, available
here
and
here
. Mike wrote:
"To protect free speech, US President Barack Obama signed into law the US Speech Act to protect US citizens from the effect of English, Welsh and Northern Irish libel law, an act described as a "national embarrassment" by MPs.
Now Northern Ireland is alone with its embarrassing libel law. The law of England and Wales has been substantially reformed after the Libel Reform Campaign won support from 60,000 members of the public and over 100 charities and campaigning groups and in response the Government passed the Defamation Act.
Meanwhile in the Republic of Ireland, the Defamation Act of 2009 made modest changes to update the law to reflect the internet age and improve the defences available to those sued.
It is extremely unfortunate that Sammy Wilson, the Minister of Finance and Personnel, personally vetoed adoption of the Defamation Bill without scrutiny by either the Assembly or the Executive.
The worry is that "libel tourists" such as corrupt businessmen, powerful vested interests and global corporations may begin to use the High Court in Belfast to silence their critics using Northern Ireland's unreformed law."
Mike Harris continued:
"If Northern Ireland gets this right, it will have a law fit for the internet age that protects ordinary people and GPs, scientists and academics speaking out in the public interest.
If it fails to reform the law, it's hard to see how it will attract internet companies with a publication rule from 1849; how it will attract academics with no public interest defence for their work, or ensure books don't get pulped (as they have done) with little protection for comment or opinion.
England and Wales have enacted wholesale libel reform for the first time in 170 years, Northern Ireland cannot afford to miss this opportunity."